Illuminart Provides Insight on the Future of Lighting
This past May, the Illuminart team attended the 2017 LIGHTFAIR International Trade Show in Philadelphia, PA. LIGHTFAIR is the largest commercial lighting tradeshow in the U.S., with 550+ exhibitors, 200+ CEU courses to choose from. The following is a redux of what they recorded as exciting, innovative and surprising trends for what's next in the architectural lighting design industry.
Controls Innovation:
Cree SmartCast: (Wireless and POE)- intuitive user interface, at-a-glance helpful insights, 10 year warranty and increased integration opportunity – all enough to make this an intriguing system. And, like almost all others in the control realm, they've added some CCT tuning options which are easily customizable. Impressively, they've steered clear of the 'Circadian' word so far, and simply reinforce the connection to daylight.
http://www2.cree.com/smartcast-landing-page
Acuity Fresco: (DMX and Wireless) – aesthetically pleasing, simple interface (even when navigating RGB), relatively intuitive specification for DMX control – and simple AV integration. The important new feature described at Lightfair, is a circadian lighting component. A user could decide whether to align with a preprogrammed circadian profile or override it to allow for a constant CCT, but throughout the day the Fresco interface shows a beautiful display of the current lighting story, and what to expect.

http://www.acuitybrands.com/products/controls/fresco
USAI Color ID: – refreshingly accessible lighting descriptions and emphasis on personal customization has made USAI intriguing for years. Color control choices for LED from USAI include Infinite Color, Color Harmony, Warm Glow Dimming, and Color Select. Inside the booth USAI featured ColorID with 170 formulas they called a 'curated selection of light', and preferred lighting scenes including 'White Light Alchemy' – a custom white light formula. Visitors could fill out a 10 question survey about their preferences and receive their white light prescription (mine was R: 78%, G:87%, B:39% and white: 59%). USAI seems to be having the most in-depth discussion regarding personal light. Not available on the website, yet.
http://www.usailighting.com/lighting-solutions
Decorative:
Element by Tech Lighting: Exciting new development – indirect recessed downlights called Reflection. Currently available in 5 different decorative dome designs, the highly detailed embossed reflectors offer a unique decorative component without having to add a chandelier or pendant – flanged and flangeless.
http://www.element-lighting.com/Products/Details/Reflections-Decorative-Recessed-Downlights
WAC: Offers a variety of decorative and functional lighting. The Venity Pendant is a direct view, fully rotatable both vertically and horizontally, ambient pendant. The source is a ½" thick edge-lit disc, delivering 1800lms, 3000K, 90 CRI, Dims to 0% with ELV.
http://www.waclighting.com/product/3299
Litecontrol by Hubbell: We were impressed with the design of the Inde-Pendant and its performance capabilities as a decorative pendant, which combines a drop lens cylinder downlight source with a direct/indirect ring.
http://www.litecontrol.com/products/independant_32_led_cylinder_ring_pendant_direct
Vode Lighting: – Zip Three wall mount featured an impressively slim profile with functional light output.
http://vode.com/zipthree-wall-mount-707
Performance:
Lumenpulse: Released a combined optic option for their LumenBeam, a product we've spec'd on a number of projects. Now, you can spec 2-3 (depending on Large or Grande) optics within the same fixture, with independent dimming of the beam spread. We envision it'd be great for a building façade with a flood to wash the building area, and a narrow spot on a logo or sign.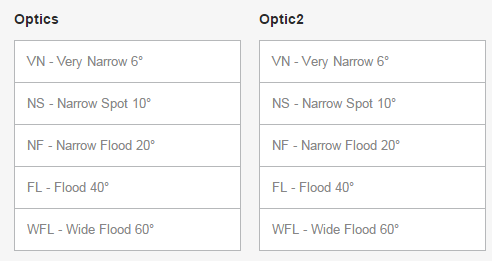 http://www.lumenpulsegroup.com/family/1/lumenbeam
They also featured an impressive 4 degree option for the LumenBeam family projected to be available this fall. The LumenFacade fixtures typically featured 5 standard optics and now there are 14.
Alphabet of LEDRAbrands: introduced a 'tunable distribution' downlight and trackhead allowing in-field decision making from your phone. The distribution range is 10 degree to 55 degrees- all the flexibility but simplified specification process. Not available on the website, yet.
http://alphabetlighting.com/2017-light-fair
Unexpected Trend:
'Multi-cell' downlights. I was surprised to see so many from even the major manufacturers. One favorite was soon-to-be-released MYO Series from Gotham (Acuity). Featuring a curved baffle, a unique range of saturated matte colors, and independent control of each head – it's promising. Not available on the website, yet.
Another is the BeveLED MICRO from USAI:
http://www.usailighting.com/micro-recessed-linear-multi-cell-led-downlights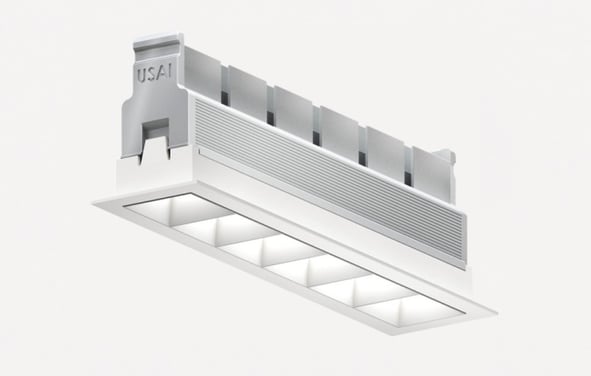 New Discoveries:
Lightheaded: – offers attractive recessed multiples, clear emphasis on streamlined product design.
http://lightheadedlighting.com/
Apure: – apure MINUS is the tiniest little downlight, with <1" tall housing, and some beautiful reflector colors.
Versalume: First time exhibitor. Combines fiber optics and lasers to create thin, flexible lines, or shapes, of light. Available in changing or static color, direct wire or battery powered. They are working on exterior rated. The creative possibilities for application seem endless.
TLS Lighting: – Innovative LED arrays for uniform backlighting of a huge variety of shapes, and sizes.
"Want to learn more? Contact me or any of our Illuminart lighting designers at 734-482-6066 or info@illuminart.net