Isherwood Cites Balancing Energy Efficiency and Equipment Cost as Current Challenge / Trend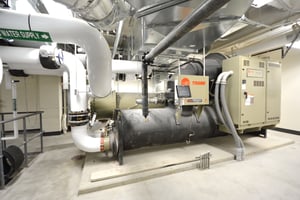 The current issue of Consulting Specifying Engineer Magazine features PBA Healthcare / Lab Group leader George Isherwood, PE in its monthly, 'MEP Roundtable' discussion with industry professionals, with the current issue focused on 'Lab, Research Facility Design.'

The article offers to provide... 'tips on how to design labs and research facilities - some of the most high-tech buildings around.'

In addition to the discussion on trends in the lab & research engineering design industry, Isherwood touches on the issue of finding balance between safety and comfort. Isherwood states that, 'most buildings are built with the intent of keeping the occupants comfortable'...However, 'laboratories introduce harmful elements into that environment that can affect both the safety of occupants and the surrounding areas. Management of chemicals or other harmful elements is what makes laboratories unique.'

To read the December 2019 Consulting Specifying Engineer Magazine MEP Roundtable discussion in its entirety, go to: http://bit.ly/2SFiglo

To contact George Isherwood, PE, Vice President of Peter Basso Associates, Inc. directly, email him at gisherwood@pbanet.com.

Peter Basso Associates, Inc., a 100% employee-owned firm, is ranked among the Top 100 Consulting Engineering Firms in the nation. To learn more about our Health Care and Lab Design services go to: https://www.peterbassoassociates.com/portfolio/healthcare-lab.