Electrical Engineer Hansen, Touches on Software's Holistic BIM Capabilities
Project Background: Corporate Mixed-Use Development with Historical Component
In 2016, PBA completed conceptual design for a mixed-use development in Dearborn, MI which included a 150,000 square foot redevelopment of a historic hotel. The redevelopment, which broke ground in May, will bring retail and office space along with the addition of two three-story mixed-use buildings to downtown Dearborn. The first floor of the historic hotel will be open to the public and have tenant spaces, while the second and third floors will include office spaces. Office space within the redevelopment is expected to house 600 data insight and analytic corporate employees.
As an organization that is always on top of new technology and innovations within the MEP and lighting design industries, PBA owners from the newly formed PBA Technology Focus Group, expressed interest in ElumTools™ technology, a lighting calculations component of Revit®.
The Problem: Migration Redundancy
Historically, the building engineering process utilizes many disparate software programs to optimize a building design. The team might export 'floor plan and area data' to three or more non-CAD software platforms for analysis. Lighting design is one of these software platforms. The process of exporting a floor plan, importing it into the lighting design software, modeling the 3D conditions that were lost in the translation, and migrating the analysis data back into the drafting software can be very redundant. It often involves many repetitive steps that are of little value to the final solution.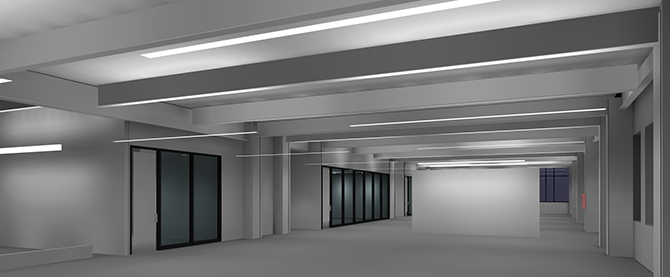 Solution: Research, Development and the Use of ElumTools™
After attending a webinar on the technology, PBA team members noticed a significant improvement in the technology's capabilities and functionality and decided to implement ElumTools™ into the design of PBA projects that have common lighting layouts, while simultaneously developing our content and process to handle increasingly complex designs.
In order to cut down on redundancies, for this mixed-use development PBA implemented the use of Revit's ElumTools™ software. This program allowed PBA to produce lighting calculations to determine light fixture spacing, light output as well as emergency calculations. Also, client standards called for specific light levels, so the calculations needed to be plotted and sent to the client for review. ElumTools™ provided a platform for creating lighting calculation plans that could be issued to the client. It also required less redundancy in data analysis migration. Typically, iterative work is necessary to every design project; however, ElumTools™ did significantly reduce design redundancy by eliminating the need to create a lighting plan twice - once in CAD/REVIT and the other in the lighting analysis software.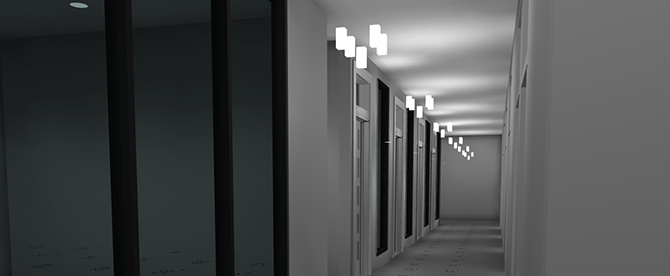 In Summation: The future looks Bright
In the end, ElumTools™ enabled PBA to work in a single, holistic BIM (Building Information Model) thereby reducing duplication of drafting time across multiple software platforms. It also allowed the designer to analyze and redesign individual rooms, an improvement over other software programs where entire floors of the building must be processed, even for a small change in a single room. Also since ElumTools™ does not require building a 3D model or having to duplicate the layout of light fixtures in Revit®, CAD as well as AGI32, it is a preferable new method to similar technology that is currently on the market.
For more information go to: http://www.peterbassoassociates.com/