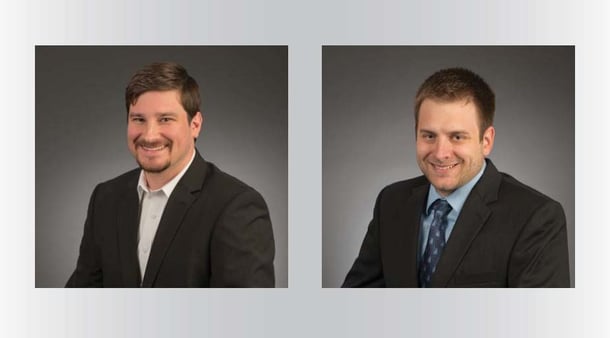 Peter Basso Associates (PBA), Michigan's largest MEP consulting-only organization, is pleased to announce three promotions.
Celebrating promotions to Project Leader are W. Gerard Hentrich, James McKinnon and Sue Mitchell (not pictured).
Hentrich started his career with PBA as a co-op in 2012, and transitioned into a full-time electrical designer in 2013. Hentrich received his Bachelor of Science degree in electrical engineering from Wayne State University. Hentrich has played a significant role on many of PBA's higher education projects including, most notably, Oakland University's new Student Housing project, Rochester, MI and the University of Michigan's Stephen M. Ross Athletic Campus, Athletics South Competition and Performance Project, Ann Arbor, MI.
McKinnon, an electrical designer, started his career with PBA in its K-12 group as a mechanical designer in 2012. McKinnon has a Bachelor of Science degree in mechanical engineering from the University of Michigan. McKinnon has played a significant role in the mechanical design of several notable projects including, Farmington Public Schools 2016 and 2017 summer bond projects, Macomb Community College (MCC) South Campus Buildings "SG/SH" Renovation and MCC South Campus Center Building Renovation, Clinton Township, MI.
Electrical designer Mitchell started her career in 2014 in PBA's corporate office and government group. Mitchell studied electrical engineering at Lawrence Technological with a Master of Science degree from Wayne State University and a Bachelor of Arts degree from Oakland University. Mitchell has played an integral role on multiple design projects including the Croswell Opera House Renovation in Adrian, MI and the Wurlitzer Building Renovation and Adaptive Reuse for Hotel project in Detroit, MI.
To learn more about career opportunities at Peter Basso Associates, go to our careers page at: http://www.peterbassoassociates.com/careers