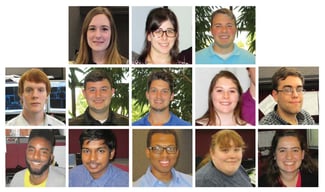 Peter Basso Associates (PBA), Michigan's largest MEP consulting-only organization, is pleased to announce four promotions.
Celebrating promotions to senior associate are Lindsey S. Stefaniak, PE and Scott A. Bilan, PE. Celebrating promotions to associate are Mark J. Koehler and Jonathan R. Darnell.
Senior associate Lindsey Stefaniak, PE started her career with PBA as an electrical designer in 2009, and was promoted to associate in 2015. Prior to joining PBA, Stefaniak, PE received her bachelor of science degree from Lawrence Technological University in electrical engineering. Stefaniak, PE has played an integral role in the continued success of PBA's corporate office and government group. Some of her most notable contributions as an electrical engineer include Michigan State University's Eli & Edythe Broad Art Museum, East Lansing, MI, Saginaw Valley State University's Crystal M. Lange College of Health and Human Services Building, LEED Silver Design, Saginaw, MI and the First National Building Lobby Renovations, Detroit, MI which received a national lighting design award from the Illuminating Engineering Society.
Scott Bilan, PE, senior associate, started his career in 2007 at PBA as an mechanical design co-op. In 2015, he was promoted to associate. Bilan, PE, earned his Bachelor of Arts degree in 2009 in mechanical engineering from the University of Detroit. Bilan, PE has played an integral role as project manager or mechanical lead for many of PBA's health care / lab group projects. Some of his most notable projects include the Detroit Medical Center's, Children's Hospital of Michigan, Critical Care Tower, Detroit, MI, Sparrow Health System's, Sparrow Ionia Critical Access Hospital, Ionia, MI and the Bell Memorial Replacement Hospital in Ishpeming, MI.
Associate Mark Koehler started his career in 2008 as a mechanical design co-op. Koehler earned his Bachelor of Arts degree in mechanical engineering from Wayne State University. After becoming a full-time mechanical designer, in 2015 he was promoted to project leader in PBA's higher education group. As a mechanical designer, Koehler's most notable projects include Michigan State University's Breslin Student Events Center Facility Upgrade and Addition, East Lansing, MI and Eastern Michigan University's, Mark Jefferson Science Complex, LEED Gold design, Ypsilanti, MI, which received an ASHRAE Technology Award and an Engineering Society of Detroit Construction & Design.
Associate Jonathan Darnell began his career at PBA in 2012 as an electrical designer in PBA's K-12 group. Before joining PBA, Darnell had earned his Bachelor of Science degree in electrical engineering from Wayne State University. Darnell has been actively involved in electrical design for several notable PBA K-12 projects including the Farmington Public Schools, 2017 Bond Projects, Farmington, MI, Troy School District's, 2013 Bond Projects including Athens High School, Troy, MI and Walled Lake Consolidated Schools 2013 Bond including Northern High School in Walled Lake, MI.
To learn more about career opportunities at Peter Basso Associates, go to our careers page at: http://www.peterbassoassociates.com/careers