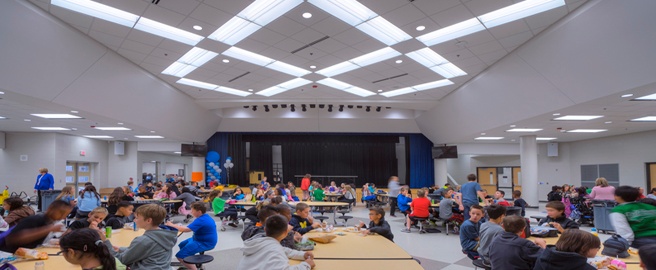 Don't miss Bob Roop, CPD, LEED AP, PBA's K-12 group leader and firm principal in this month's issue of CAM Magazine, which features an article on the recently completed Plymouth-Canton Community Schools' new Liberty Middle School.
Roop is quoted in the article regarding the cost efficient, HVAC system, which includes a closed loop water source heat pump system. The entire HVAC system is operated by an Energy Management System (EMS), which allows for Direct Digital Control (DDC) of the air air handling equipment, central heating and cooling equipment and heat pumps.
The middle school offers students 'technology-driven and STEM-driven education programs along with collaborative learning spaces' (Desmond, CAM, 2016). PBA provided MEP engineering design services and architectural lighting design services on the project.
Roop has 25 years of experience in mechanical design, and specializes in facility studies, pre-bond planning and systems evaluation. He is a USGB LEED Accredited Professional and is Certified in Plumbing Engineering (CPD). Roop is also an active member of the American Society of Plumbing Engineers (ASPE); the National Fire Protection Association (NFPA); American Society of Heating, Refrigerating and Air Conditioning Engineers (ASHRAE); Council Educational Facility Planners International (CEFPI) and International Ground Source Heat Pump Association (IGSHIPA).
The article is featured on page 58 of the October issue of CAM Magazine. Access the article electronically here: http://viewer.zmags.com/publication/5dce73a3#/5dce73a3/58
For more information regarding Peter Basso Associates or its K-12 group, go to our homepage at: http://www.peterbassoassociates.com/