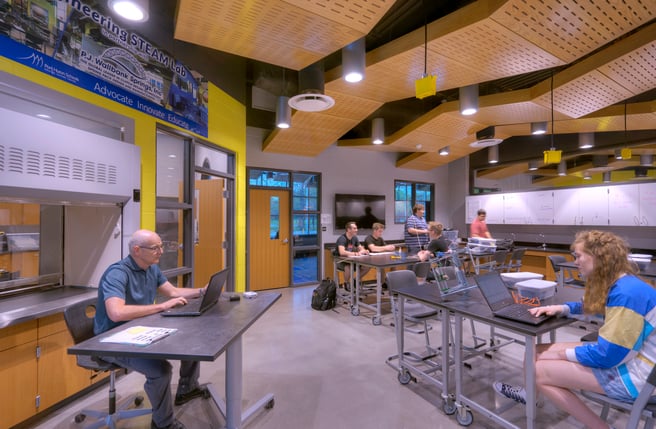 The 21st Annual Facilities / Operations Director Conference will be held October 6-8, 2019 at Crystal Mountain Resort in Thompsonville, MI and will feature PBA's K-12 Schools Group leader Bob Roop, who will present, "How Standardization Can Help Mechanical Systems Work Properly," on Tuesday, October 8 and Principal, Robert White of Illuminart, who will present, "The Evolution of Building Lighting," on Tuesday, October 7.
Often, upon completion of a major renovation or new construction project facility operators are often left trying to figure out how to efficiently operate the new varied equipment after the installers have left. Through Bob Roop's presentation, participants will learn about processes designed to allow for standardization of equipment types and specialized training to assist operations in keeping the new equipment functioning at peak performance, while not breaking the O & M budget.
Robert White, Principal of Illuminart will present, "The Evolution of Building Lighting" at the conference on Monday, October 7. He will take participants on a journey through the history of lighting design in schools – more specifically to where lighting has been and where it's headed.
MSBO describes this year's program as an opportunity to... "Get in-depth information on all important current school facilities topics. School buildings are the largest financial asset of a district. Maintaining them properly is critical to successful educational programs and this conference provides the necessary information to do it right. This is a valuable conference for facilities and operations directors as well as superintendents and business managers."
Roop has more than 30 years of experience in mechanical design, and specializes in facility studies, pre-bond planning and systems evaluation. He is a USGB LEED Accredited Professional and is Certified in Plumbing Engineering (CPD). Roop is also an active member of the American Society of Plumbing Engineers (ASPE); the National Fire Protection Association (NFPA); American Society of Heating, Refrigerating and Air Conditioning Engineers (ASHRAE); Council Educational Facility Planners International (CEFPI) and International Ground Source Heat Pump Association (IGSHIPA).
From his early days as an Industrial Design graduate at Detroit's College for Creative Studies to the present as design principal at Illuminart, Robert White has been creating innovative lighting design solutions for over 25 years. His extraordinary range of experience informs his creative design flare, technical expertise and a collaborative spirit. Robert has received several Edwin F. Guth Memorial Awards of Excellence for the Qatar National Convention Centre interior lighting and the Detroit McNamara airport terminal. He also received the Control Innovation Award for the Qatar National Convention Centre. He has received over 50 other individual awards of recognition, his work has been featured in a variety of industry publications including; Lighting Dimensions, Mondo, LD&A, Architectural Lighting, Metropolis, Illuminator (Russia), Interior Design, and he has recently been featured in Illumni online magazine.
Bob Roop's presentation is schedule for Tuesday, October 8 from 10:10 a.m. to 11:30 a.m.
Robert White's presentation is schedule for Monday, October 7 from 8:30 a.m. to 9:50 a.m.
For more information on the MSBO conference or to learn how you can attend, head to: https://www.msbo.org/conferences-seminars/21st-annual-facilitiesoperations-director-conferencehttp://www.msbo.org/annual-conference-attendee-information
For more information regarding Peter Basso Associates or Illuminart, go to our homepage at: http://www.peterbassoassociates.com/