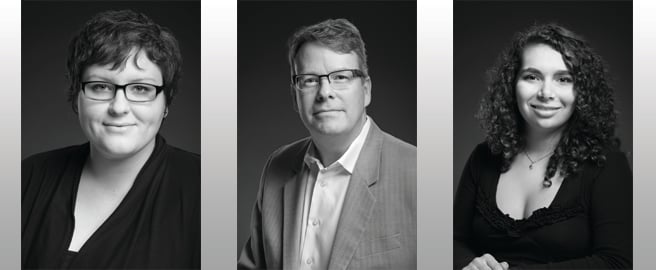 Peter Basso Associates (PBA) would like to welcome lighting designers Bob White, IALD, LC, IESNA, Brienne Willcock, HON. AIA, MIES, LC and Elizabeth Williams as the newest additions to the PBA team. White, Willcock and Williams, have all joined the firm as part of PBA's recent acquisition of Illuminart, a provider of sustainable lighting design solutions since 1984 and now a division of Peter Basso Associates.
Principal lighting designer, White, brings to the team more than 25 years' of lighting design and leadership experience; having provided lighting design solutions for projects such as the McNamara Terminal and Passenger Tunnel at Detroit Metropolitan Airport, the Kuwait Culture Center, in Kuwait City, Kuwait and the Samsung World HQ Shopping Mall in Seoul, Korea.
White has received several awards for his service including two Edwin F. Guth Memorial Awards of Excellence for the Qatar National Convention Centre interior lighting and for the Detroit McNamara Airport Terminal. He is also a Professional Member of the International Association of Lighting Designers (IALD) and is Lighting Certified through the National Committee for the Qualification of Lighting Professionals (NCQLP). White is a graduate of the College for Creative Students (CCS) in Detroit and has served as a lighting design instructor for his alma mater CCS, Eastern Michigan University and University of Detroit Mercy.
Lighting designer Willcock brings an extensive background in art and design to the firm. Currently serving as President of the Illuminating Engineering Society (IES) in Detroit, she is active in industry organizations and events and has participated in the U.S. Dept. of Energy's CALiPER (Commercially Available LED Product Evaluation and Reporting) Program. She is also skilled in both 2D and 3D design applications and as a project manager, has provided services for in-depth investigation of LED product research, comparative analysis of products, and evaluation of performance data. Some of her most notable lighting design projects include the Cobo Convention Center interior and exterior renovation in Detroit and the Detroit Institute of Arts Kresge Court renovation. She has also provided services for lighting design guidelines, evaluations and specifications to General Motors Corporation.
As a lighting design assistant for Illuminart, Williams strengths include visualization and luminaire focusing. She has excelled in theatrical and video lighting design, computer drafting, stage technician work, theatrical lighting controls, live camera work and photometric calculations. Williams is a graduate of the University of Michigan Department of Theatre and Drama with a concentration in Theatrical Design and Production. She is also an active Emerging Professional in the Illuminating Engineering Society (IES) of Detroit.
For more information regarding Illuminart head to: http://www.peterbassoassociates.com/illuminart
For more information regarding Peter Basso Associates, go to our homepage at: http://www.peterbassoassociates.com/