...'The term, social distancing may be here to stay.' -Garrison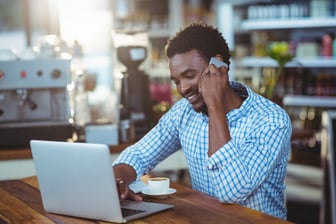 The current issue of Consulting Specifying Engineer magazine, features an MEP Roundtable discussion on, 'How COVID-19 is affecting retail and restaurants.'
PBA principal and Corporate and Governmental Group Leader, Scott Garrison, participated in the discussion and provided incite into current trends in retail and restaurant MEP design during the COVID-19 pandemic.
In response to CSE's question pertaining to the future of MEP design in the time of COVID-19, Garrison responded:
"It seems that the term social distancing will be here to stay. As recent trends toward maximizing the use of rentable square footage has led to more compact seating, it is unclear how the reversal of this may affect the design of such spaces. It is likely that workflow, circulation, spacing, the ease of cleaning and sanitizing surfaces may start to dominate the design objectives."
In addition, Garrison responded to questions relating to, 'the growth of immediate-delivery services and how they are impacting retail, restaurant and mixed-use projects.'
Garrison responded. "We live in a world where one-click shopping and next day (or in some cases same day) delivery has influenced expectations in just about everything we do. Many restaurant and retail clients, particularly specialty and boutique retailers, who do not regularly engage in design and construction projects, have these expectations.
Although advanced software and instantaneous information sharing among design team members and the clients can speed up the process, it still takes time to properly develop the design, coordinate among disciplines, solicit bids, procure materials and construct a space. The design and construction teams must skillfully manage these expectations.

Once the client makes a financial commitment to develop a space, they want the space functional and generating revenue as soon as possible. Many times, these financial goals and associated timing are determined before consulting with a design team or a contractor, further reinforcing the expectation."
To read the full MEP Roundtable discussion and responses from other industry professionals, and addition to Garrison, go to: https://www.csemag.com/articles/how-is-covid-19-affecting-retail-restaurants/
To speak to a PBA MEP design professional regarding MEP design considerations in the time of COVID-19 contact us at248.879.5666 or pbainfo@pbanet.com.
Peter Basso Associates, Inc., a 100% employee-owned firm, is ranked among the Top 100 Consulting Engineering Firms in the nation.