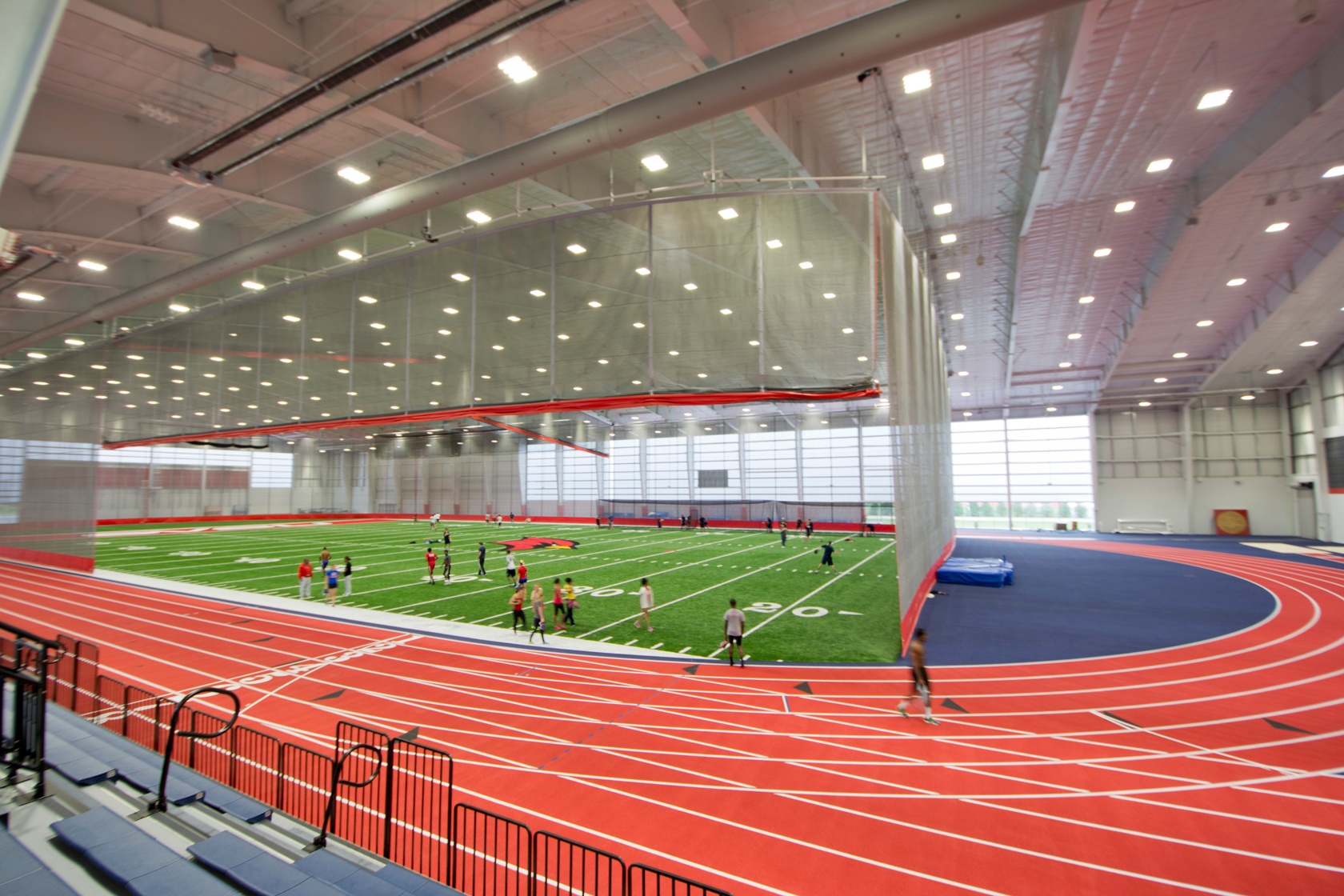 Troy, MI – April 12, 2019 Peter Basso Associates (PBA), Michigan's largest MEP consulting-only organization, is pleased to announce that SVSU Ryder Center Fieldhouse Addition has been selected as a Finalist for Consumer's Energy 2018 Project of the Year Award (Large Commercial), with MEP engineering design and architectural lighting design by Peter Basso Associates.
Focusing on SVSU's energy efficiency goals, the design and construction team for the new 150,000 square foot Ryder Center Fieldhouse addition looked at every available technology to reduce the energy impact of this new building, which houses a 70-yard indoor practice football field and an indoor running track to hold various field and sporting events.
With all of the energy efficiency measures installed on the Fieldhouse, it is estimated that the building is thirty percent more energy efficient than a standard baseline building of similar size and use. The Consumer Energy rebates obtained by SVSU allowed them to purchase more energy efficient equipment because of the reduced up-front cost.
The awards'program recognizes how each Trade Ally finalist has shown… 'innovation in saving energy and shows others how to increase their energy efficiency, reduce their carbon footprint and be better stewards of Michigan's resources.'
The program selects one project for having the most energy savings and rebate incentives. PBA was selected as one of the Top 5 Finalist's in the Large Commercial category for SVSU's new Fieldhouse Addition. The winner along with their Trade Ally was awarded for having $145,000 in rebate incentives.
As the only MEP engineering firm Trade Ally to make the Top 5, PBA and the SVSU Ryder Center's Fieldhouse Addition project proudly came in a close 2nd with $142,600 in rebates.
To learn more about Consumer's Energy business energy efficiency programs go to: https://www.consumersenergy.com/business/energy-efficiency/rebates-and-programs
For more information on the SVSU Ryder Center Fieldhouse Addition check out our blog at: https://blog.peterbassoassociates.com/blog/ashrae-awards-for-mep-services-at-svsu-ryder-center