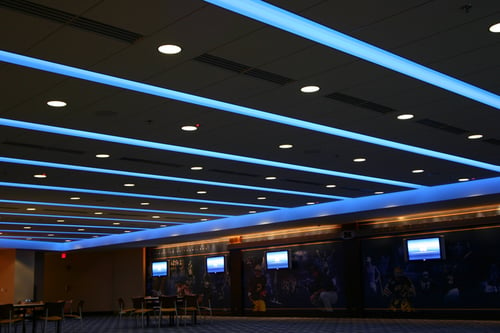 Architectural lighting design for occupants, indoor environment
Some of the more often overlooked aspects of building design can actually have a significant impact on the health and well-being of a building's occupants. Just like optimizing a building's indoor air quality can lead to better health, increased productivity, and fewer absences in school and work environments, architectural lighting design can play an important role in providing a comfortable environment. Proper lighting design can help boost a person's mood and retention, increase productivity of those that are working or learning in the space, and can decrease operational cost for buildings.
Architectural lighting design services can incorporate natural daylight, LED and energy efficient lighting, and other strategies that have benefitted schools and universities, government buildings, health facilities, and commercial office buildings.
Let's take a look at the benefits that a lighting designer and effective lighting strategies can bring to your building:
The benefits of Daylighting
Daylighting is the practice of using natural light to illuminate buildings. Daylighting has been touted for its many aesthetic and health benefits, which include increased productivity and comfort for occupants, and the mental and visual stimulation necessary to regulate human circadian rhythms.
Buildings that utilize natural light can also benefit from substantial energy savings. According to the U.S. Department of Energy and the U.S. Energy Information Administration, indoor electric lighting accounts for about 11% of all electricity consumed in the United States. By installing daylight-sensing controls, buildings can reduce the amount of energy used for electric lighting by 20-60%.
Lighting design that utilizes energy-efficient windows and skylights that bring in natural light, can reduce the need for artificial lighting during daylight hours without causing heating or cooling issues.
Sensors and daylighting technology
Effectively incorporating current technology into lighting design can lead to cost savings and a more comfortable environment for occupants.
Buildings that are outfitted with daylight sensors accompanying their lighting systems can experience significant energy savings. Sensors can measure the amount of electric light, daylight, or a combination of both present in a room. Sensors also assess the amount of light in a variety of ways, whether it is measuring the reflection off of a work space or taking into account the light level entering the space.
These sensors can automatically dim or turn off electric lights when natural light has entered the space, a system known as daylight harvesting. In addition to providing cost savings and environmentally-friendly energy reductions, daylight sensors can help maintain proper light levels, so a room is never too dark or too light, enhancing a person's comfort level while he or she is in the space.
Using technique to complement and highlight indoor spaces
As a creative extension of architecture, professional lighting design can help improve visibility and accentuate the form, shape, and colors implemented in architectural design.
When Peter Basso Associates provided lighting design for The University of Michigan's Junge Family Champions Center, the design effectively compensated for low ceilings and other structural challenges with creative solutions that allow for various levels and styles of illumination that can produce different environments during day or nighttime events.
High-tech blue and white lighting design in the Center's banquet room brings a modern complement to the murals, etchings, and other displays that showcase the university's traditions, while still providing a perfect balance of warm lighting.
In the building's pre-function/gathering space, the design incorporated strategic artificial lighting techniques and clear glass windows that allow natural daylight to flood the area and make the interior space feel like an exterior plaza space.
Keys to lighting design
Lighting designers possess expertise in special feature lighting, accent lighting, and façade, site and landscape lighting. Effective Lighting system design can help to complete the vision of the architect and the facility owner.
Lighting design systems also help keep operational costs down and allow buildings to achieve LEED certification and other environmentally-friendly and energy-efficient standards. Lighting design is very strategic and requires specific adaptations for each space in order to optimize building and occupant needs.
At Peter Basso Associates, we recognize the importance of giving people a connection to the outdoors, and combine a number of daylighting and technical strategies into our designs in order to provide occupants with the highest levels of comfort via natural light.
To learn more about how your building or project can benefit from strategic lighting design and the custom approaches that Peter Basso Associates can develop for you, watch this video on our website and download our Free Lighting Design Idea eBooks.