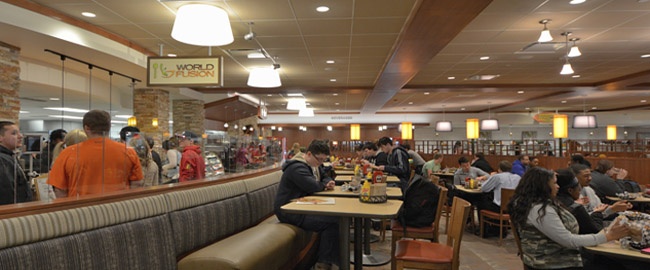 Features Green Design MEP Engineering and Architectural Lighting
Ferris State University was interested in significantly upgrading it's existing student center into an energy efficient, iconic architectural showpiece that would serve as a gathering space for students by providing comfortable places to meet, relax, study and socialize.
PBA provided MEP engineering and architectural lighting design services to upgrade existing systems with energy efficient systems that met the programmatic requirements and reduced operational and maintenance costs leading to the project attaining LEED® Gold certification by the USGBC.
Mechanical implementations included adding 4 new AHU's for the student lounge, kitchen/ dining areas, event/ meeting rooms and office spaces / bookstore. A new 450-ton water cooled chiller was also provided to generate chilled water. A direct digital control (DDC) system was additionally provided to monitor, control, and optimize the operation of the HVAC systems in the building. A fully automatic wet-pipe sprinkler system was also provided throughout the entire building.
Click here to read about another LEED® Gold certified project from our higher education group.
http://blog.peterbassoassociates.com/blog/university-of-michigans-mmpl-features-leed-gold-certified-addition