New Lighting Reduced Maintenance and Energy Use
Illuminart was selected to provide lighting design upgrades to Trinity Lutheran Church in Worcester, MA with the design goal of increasing light levels, improving overall lighting quality, reducing energy use and the maintenance.
The 1940's-era church was originally illuminated with decorative triple lamp 750W pendants that provided indirect/direct illumination for the Nave, while traditional sconces lit the Chancel. PAR56 theatrical lights were added in the late 1980's to increase vertical footcandles at the front of the church as well as the Chancel behind the arched proscenium.
The varying different types with different lamps sources provided inadequate light levels. There was sharp contrast between light and dark which created serious issues. For example, spaces that were intended for reading hymnals were too dark, such as the existing Nave (see image below). Several attempts to replace the existing lighting had been made using CFL and LED retrofit lamps in the existing pendants. However, none of the attempts were successful in delivering the needed light or celebrating the amazing architecture or creating the desired atmosphere.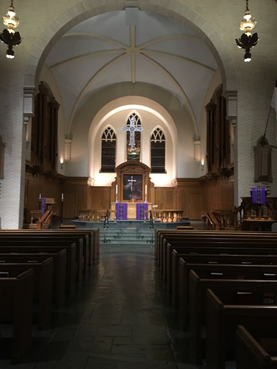 A lighting equipment budget of $50,000 had to be established at the beginning of the design process for fundraising purposes and was maintained through to installation completion and site focus. With budget being a priority from the beginning, Illuminart balanced its decision on potential lighting options for specific areas of the church on performance, aesthetics, and cost. Chip-on-board, more refined luminaires, were selected for high visibility areas, while retrofit variants were implemented in concealed areas or parts of the church, like the balcony, not accessed by the public.

In order to stay within budget, the existing dimming system, which was still viable twenty years after its installation, was kept. New device interfaces were added, though, to assist in dimming the LED lamp sources. Single gang satellite control stations were added at the church's two entrances as well as a master control touch screen in the adjacent sacristy.
Illuminart worked diligently with the contractor in properly focusing new accent lighting and tuning preset light levels during the evening site focus.
The church parishioners and staff now have a place to work and worship that is comfortable, appropriately bright, energy efficient and easy to use.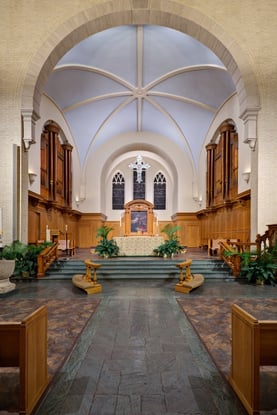 The project, which came in on time and under budget, could not have been as successful had it not been a total collaborative effort between the client and the design and construction team from fundraising efforts to installation through to site focus.
To learn more about our lighting design team at Illuminart and the cost and energy-saving solutions we offer, go to: https://www.peterbassoassociates.com/illuminart