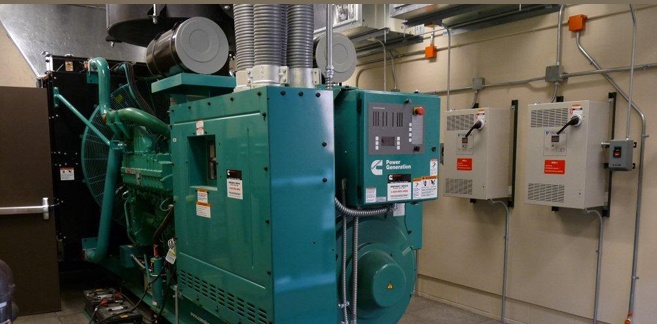 Tips for Emergency Power Preparation

Emergency power supply systems (EPSS) in hospitals are an important component of healthcare facility operations. Replacement of these systems, while keeping the hospital fully operational is one of the biggest challenges a healthcare design engineering team will face.
Healthcare facilities require the implementation of an emergency power system, for the safety and security of their patients, staff and visitors. Having this standard in place helps healthcare facilities to avoid patient evacuation when faced with a natural disaster that has caused the electrical system to unexpectedly shut down.
However, even with mandatory laws requiring the implementation of an EPSS system, things can go terribly wrong. Take for example in the case of a prominent hospital in N.Y.C. During Superstorm Sandy, their backup generators failed, or proved inadequate and nearly 1,000 patients had to be evacuated (www.wcpo.com, 2012). This is a risk, most healthcare facilities do not want to face.
The following is a listing of the Top Four things to consider when implementing an EPSS, in order to avoid patient evacuation.
Capacity: Hospital growth also means an increase in demand for emergency power.
Location: Consider locating the new paralleling switchgear and generator(s) to a protected area.
In an existing healthcare environment, in order to provide enough power to a significantly-sized hospital, the engineering team, along with the hospital's facilities management staff and project manager, need to consider the locations of the generators and the paralleling switchgear. These systems should be moved from what might be a hazardous location. One consideration would be to the first floor of a power house, in order to avoid any potential hazardous flooding concerns. In any case, the switchgear needs to be located away from inclement weather and floods; in areas exposed to earthquakes, systems should not be located on rooftops or in basements in case of an earthquake or other natural disasters.
Size: One generator is large enough to carry all of the life safety and critical loads to meet NFPA codes and standards.
In larger hospitals, typically there is more than one emergency generator in place. In this instance, three existing emergency generators were replaced with two 2000 KW generators, in order to support the hospital's expansion. The decision to move to larger generators was also a result of the NFPA code requirements or the ten-second rule. This rule states that an alternate power source needs to retrieve power to the emergency loads within a matter of 10 seconds. This means that only one generator can be up and running, while the transfer switches are being transferred to the emergency power source. Once the transfer is complete, the remaining generators are connected to the new emergency system.
Coordination: Careful coordination with hospital staff is critical to the successful transition of the new EPSS.
Typically, implementation of a new EPSS is designed and completed in phases, in order to avoid disruption to the existing emergency system in the hospital. Any changes to the EPSS, including the replacement or modification of the existing emergency system will introduce the possibility of losing power. Therefore, most of the work would need to be scheduled around the user's working schedule.
In addition to these four considerations, the bottom line in any healthcare environment is the safety and well-being of patients, staff and visitors. Following these, and other guidelines, will assist your design and construction team, in a smooth transition between existing and new EPSS that will make any growing healthcare facility better equipped for handling an unexpected loss of power.