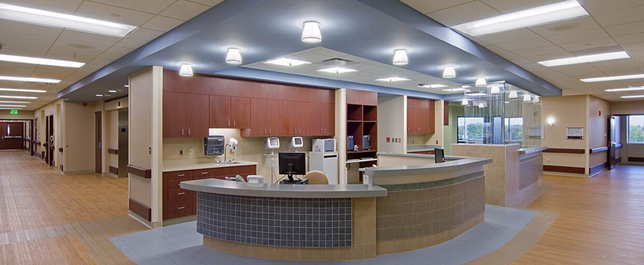 State-of-the-art medical facilities need state-of-the-art lighting designs. For example, highly specialized procedures, multi-functioning task areas, strict codes, infection control, energy usage and sustainability are all critical factors in healthcare lighting design.
Many people associate hospitals with illness and mortality; however, that negative impression can be drastically altered through something as seemingly simple but effective as lighting design. While medical facilities, in particular hospitals, largely provide a place for healing, they also serve a unique variety of purposes, each requiring a unique type and level of illumination.
In some instances spaces should feel warm yet bright and cheery, homelike yet medically responsive, professional yet friendly. Such multi-facets of emotion and purpose can all be properly achieved through the proper layering of lighting.
In patient rooms, for example, multi-level illumination along with ample daylighting is required. Newer technologies allow for high levels and various layers of illumination, yet still allow for nurses to check patients' vitals without disturbing their rest.
Surgical suites require sealed fixtures, mitigation of electromagnetic interference, high levels of illumination along with uniformity within the suite and continuous lighting even in a power failure. Proper lighting is a crucial factor for a successful operation.
Especially since the introduction of energy-saving LED fixtures, lighting is now an opportunity for facility owners to meet strict energy codes and achieve financial savings through smart lighting design, while providing proper levels of illumination for medical staff and a comforting atmosphere for patients.