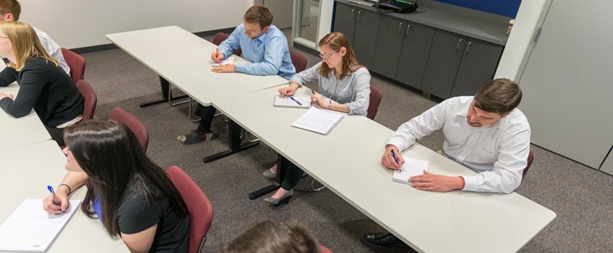 Seven PBA MEP Promotions include P. Allen, S. Awabdeh, E. Graettinger, B. Laginess, S. Mrak, S. Peck, and D. Conrad
The current online issue of CSE Magazine features two articles highlighting the recent promotions of seven PBA staff members to senior associate and vice president, respectively.
The articles highlight accolades and professional backgrounds of veteran staff members, including Dave Conrad's promotion to vice president. Conrad is a lead mechanical engineer who has been with PBA for 18 years and is an architectural engineering graduate of Kansas State University. Additional promotions include Eric Graettinger, PE, LEED AP BD+C to vice president. Graettinger, PE, LEED AP BD+C, a lead electrical engineer and a graduate of University of Detroit Mercy, has been a part of PBA for 19 years and is a member of the IES Board of Managers as well as a member of the IESNA Annual Conference Committee.
Other promotions recognized by CSE include Laginess and Awabdeh, to vice president and Allen, Mrak and Peck to senior associate - all veteran staff members of the PBA organization.
Click on the CSE article links to read more about our recent promotions:
http://www.csemag.com/industry-news/codes-and-standards-updates/single-article/pba-promotes-awabdeh-conrad-laginess-and-graettinger-to-vp/ff1bd007f4f2af9f12ec1c62853cfd82.html
http://www.csemag.com/industry-news/codes-and-standards-updates/single-article/pba-promotes-allen-mrak-and-peck-to-senior-associate/cf4ec1fb7409a566229db36a1d78c53b.html