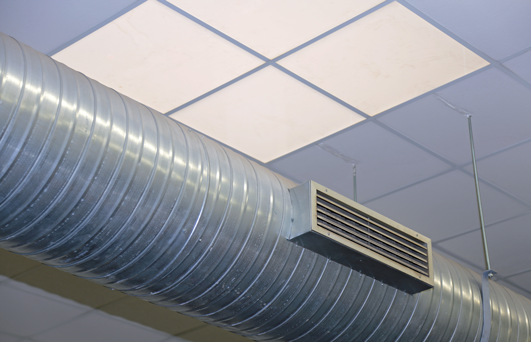 Managing indoor air quality
Many people might be surprised to learn that indoor levels of pollutants may be two to five times higher than outdoor levels of pollutants.
In fact, according to the Environmental Protection Agency, indoor air pollutants have been ranked among the top five environmental risks to the public.
The importance of managing indoor air quality is magnified by the fact that the average American spends approximately 90 percent of his or her time indoors. The availability of fresh outdoor air in offices and classrooms has been shown to boost productivity and reduce the amount of sick days and absences.
What causes our homes and places of work to be so susceptible to airborne pollutants?
Many factors can contribute to indoor air pollution. Pollutants can be generated by indoor or outdoor sources, including building maintenance practices, renovation or remodeling, new furnishings or finishes, and the activities of the people inside.
Biological contaminants, chemical pollutants, and particles such as dust, dirt, or other substances that can be produced by activities copying, printing, or operating office equipment can also negatively affect indoor air quality.
Other factors like poor moisture control, inadequate ventilation, and building design can exacerbate indoor air pollution.
What can be done to improve indoor air quality?
Even with routine cleaning, maintenance and additional efforts to reduce the amount of pollutants in an indoor environment, it can be difficult to effectively minimize toxins and achieve optimal indoor air quality.
Schools and workplaces looking to make their indoor environments healthier can turn to key mechanical design strategies including displacement ventilation and dedicated outdoor air systems, and as well as building design solutions that minimize potential sources of pollutants.
Displacement ventilation
Unlike conventional cooling systems, displacement ventilation delivers air at a constant velocity and slightly higher temperature at or near floor level. As the air is heated, it gradually layers, with the warm air rising to the ceiling.
The supply air carries germs and dust from the floor level up to the ceiling-mounted return air grilles and away from the occupants in the room. In addition to improving indoor air quality, thermal displacement ventilation also offers energy savings.
Dedicated outdoor-air system
With dedicated outdoor-air systems (DOAS) coupled with energy recovery, approximately 70% of waste energy from exhaust air is harnessed to help pre-heat or pre-cool incoming outside air. Ventilation air is then heated in the winter, or cooled and dehumidified, before being supplied to each occupied space.
When a DOAS providing ventilation is coupled with space-by-space sensible cooling equipment, significant energy savings can be achieved as compared to a traditional mixed-mode air system.
Minimizing pollutants
Incorporating building design solutions as well as products like walk-off mats at building entrances can reduce the amount of contaminants and pollutants that can be tracked indoors.
Other materials that can lead to better indoor air quality include flooring that can be easily cleaned.
With as much time as people spend indoors, indoor air quality is something that cannot be overlooked. Improvements to indoor environments can have a myriad of positive effects on the health, productivity and comfort of occupants in a building.
Peter Basso Associates has incorporated a number of HVAC, ventilation and heating and cooling design solutions that have helped to deliver increased air quality and overall improvements in indoor environments.
Read about how PBA's designs have helped deliver better air to fans at the University of Michigan's Crisler Arena and students at Whitmore Lake High School. Then see what our teams of design engineers can do to help your building optimize its indoor environmental quality.
Contact us to learn more about how Peter Basso Associates can use its decades of commissioning, engineering and LEED® expertise to help improve your building's operations and performance.