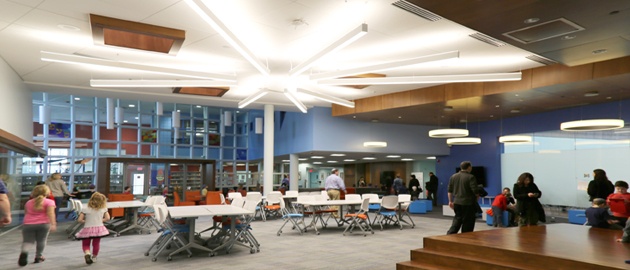 MEP and Architectural Lighting Design Creates Enhanced Learning Environment
PBA provided MEP engineering design and architectural lighting design for the first, second and third phase of the Hillel Day School renovation project, which included a new classroom wing and renovations to the heart of the school on the first floor.
Renovations, which encompassed 10,500 sf of space, as part of phase 2, were made to the heart of the building, which includes an open collaborative space for students on the first floor featuring a stage, modular seating and lighting specific to the task and purpose of each space. The project also included demolition of existing classroom dividing walls and the new construction of learning spaces which included an innovation hub featuring an audiovisual studio, art, science and music studios, interactive screens and work spaces all in a vibrant, collaborative learning environment. In addition to renovations to the heart of school, three new kitchens were added as part of the first phase of the project.
Phase 3, will include renovations to the 13,000 sf K-2 wing and 14,000 sf Davidson wing. Renovations to the K-2 wing focus on new collaborative project areas and learning studios, including Judaic study rooms. Renovations to the Davidson wing include new collaboration spaces for third and fourth grades and fifth and sixth graders. In addition, new art studios, science studios, and Judaic study rooms will be incorporated into the renovated spaces.
Existing MEP systems were reused/modified/extended as required to support the new spaces.
Hillel Day School is an independent 550-student, early childhood-through-8th grade community Jewish day school.
http://www.detroitnews.com/story/news/education/2014/10/25/architect-hillel-school-vision-transformation/17911861/