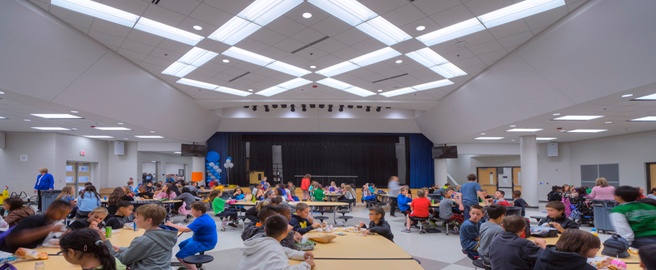 MEP Engineers Deliver On Time and Under Budget
PBA provided MEP engineering and architectural lighting design services for the construction of Plymouth-Canton Public School's new Liberty Middle School. The project was part of a $114 million bond that passed in 2013.
Programming for the new school highlighted STEM lab classrooms and included complete school network wiring services, focused on 21st century classroom design. Classrooms are highlighted by interactive projectors that are linked with each teacher's computer, allowing for a more interactive learning experience. Classrooms are also equipped with document cameras and sound fields to enhance the student's listening experience during class. In addition, classrooms include modular furniture that can be configured in different ways depending on the classroom's needs.
In order to save on energy costs, the architectural lighting design team and architectural design team maximized daylighting in the design of the new space. In addition, as a STEM school or Science, Technology, Engineering and Mathematics, the school was 'pre-wired' to incorporate advanced technology that enhances the interactive learning experience for students. Closed loop water source Vertical Unit Ventilators and Vertical Heat Pump Units were also incorporated into the design and were zoned according to each space and classrooms' specific needs. High efficiency condensing boilers are used to add heat to the system, and a closed loop evaporative cooler rejects excess heat to atmosphere. Energy recover-based Dedicated Outdoor Air Systems (DOAS) pretreat all code required outside air, reducing the operating expense of ventilation by nearly 70%. Lastly, in order to accommodate the energy and cost efficient HVAC design, the MEP design engineering team incorporated an Energy Management System (EMS) that allows for direct digital control (DDC) of the air handling equipment, central heating and cooling equipment and heat pumps.
Liberty Middle School is just under 140,000 sf in size and houses space for well over 800 sixth, seventh and eighth graders.
The new middle school was successfully completed on time and under budget.
The best way to help your building achieve – and sustain – high performance standards is through the commissioning process. Get your free copy of our Building Commissioning Playbook to see what commissioning can do for your building.