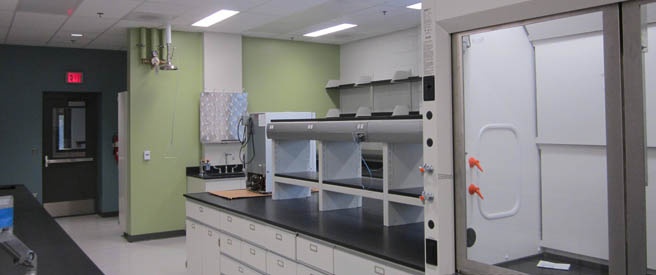 Lab and Office Renovation Features Efficient HVAC and Lighting

Peter Basso Associates' MEP design engineers provided MEP design services for the complete renovation of Gage Products' Building 821 in Ferndale, Michigan. The renovation included approximately 3,150 sq.ft. of new solvent/fuel lab space and 2,700 sq.ft. of office space.
Gage specializes in what is called a "closed-loop" recycling process for paint solvents it sells that are used by Chrysler, Ford, General Motors and other automobile manufacturers around the world. The project consolidated all of Gage's existing laboratory and testing facilities into a single building and nearly doubled the existing scientific labs they have. The renovated facility also expanded the capabilities of the company's in-house research and development.
PBA provided MEP engineering design services that included:
New high efficiency laboratory HVAC systems

New laboratory and domestic plumbing and waste systems

High grade, high GPM flow, deionized water system and distribution

New Specialty fuels and solvent storage area

New laboratory gas, monitoring, and distribution systems for Hydrogen, Oxygen, Helium, Nitrogen, Butane and Iso-Butane.

New Cryogenic Liquid, Carbon Dioxide system, monitoring and distribution system

New main power and distribution for the renovated facilities including main feeds to other existing buildings on campus

New high efficiency lighting for all renovated areas